A platform designed exclusively to showcase the work of emerging designers and makers, highlighting their artistic and commercial promise DISCOVERY is curated by the National Gallery of Victoria.
Featured Designers
February 6, 2023
2023 DESIGNERS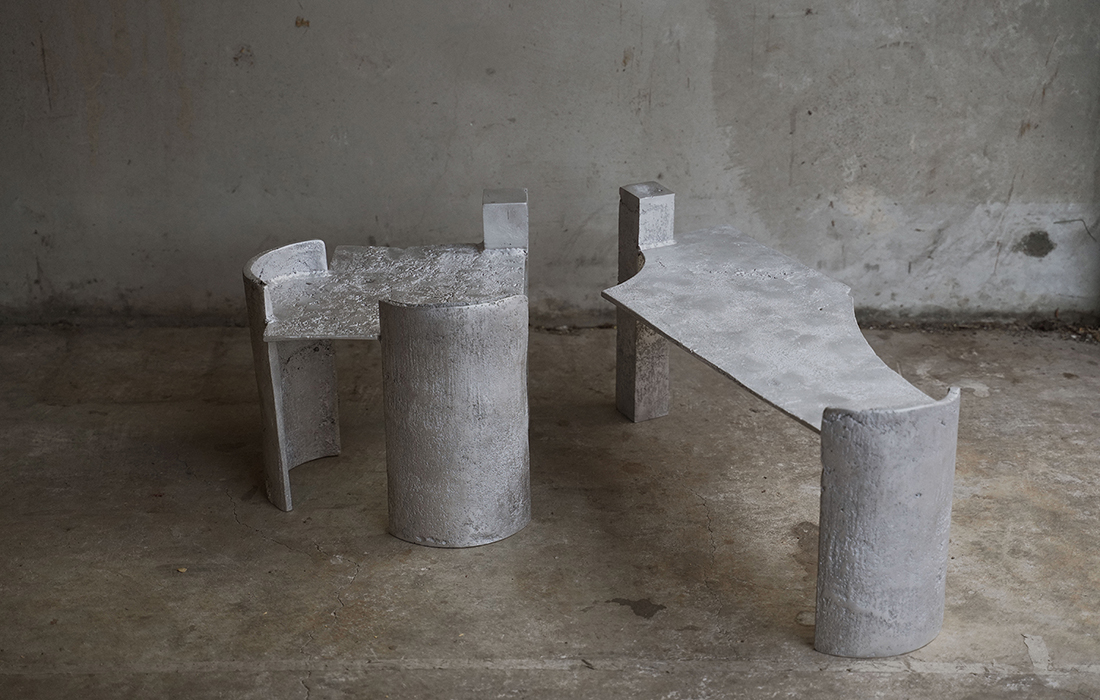 Annie Paxton is a multidisciplinary designer whose works often dwell in the liminal space between the functional and the sculptural; the robust and the fragile; the material and the spatial. Her design philosophy centers around how design is influenced by the poetics of everyday life. Paxton's works carry a patina that reveals the trace of the hand, underscoring the significance of time and process as crucial elements in her creative output.
Image: Annie Paxton, (L-R) Vestige table 01; Vestige Table 02, 2022.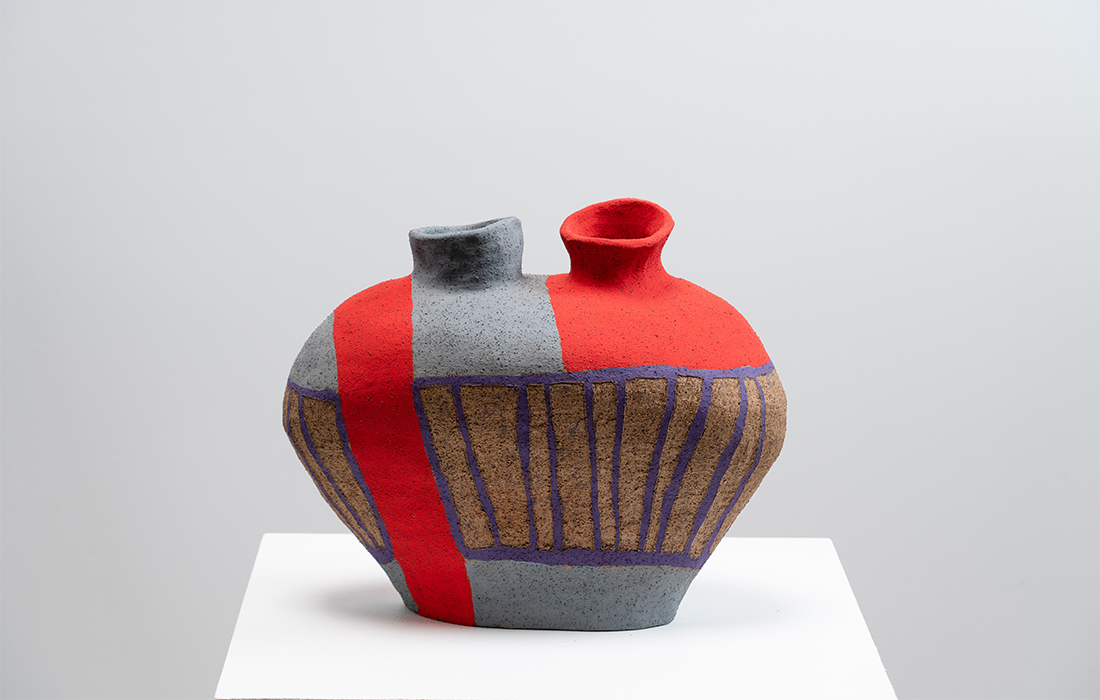 A ceramic artist based in Adelaide, Alfred Lowe is an Arrernte person from Snake Well in the Central Desert, north of Alice Springs. Lowe's interest in art, particularly ceramics and sculpture, was inspired by his upbringing in Alice Springs. Lowe's hand-built ceramics explore themes of Country using form and texture informed by his intimate knowledge of the Central Desert landscape. His work also reflects his interest in politics and racial justice, examining how culture and identity are navigated in modern times. Alfred moved to Adelaide in 2014 to pursue university studies and started making ceramics in late 2021 beginning his practice at the APY Studio in Adelaide.
Image: Alfred Lowe, 2022.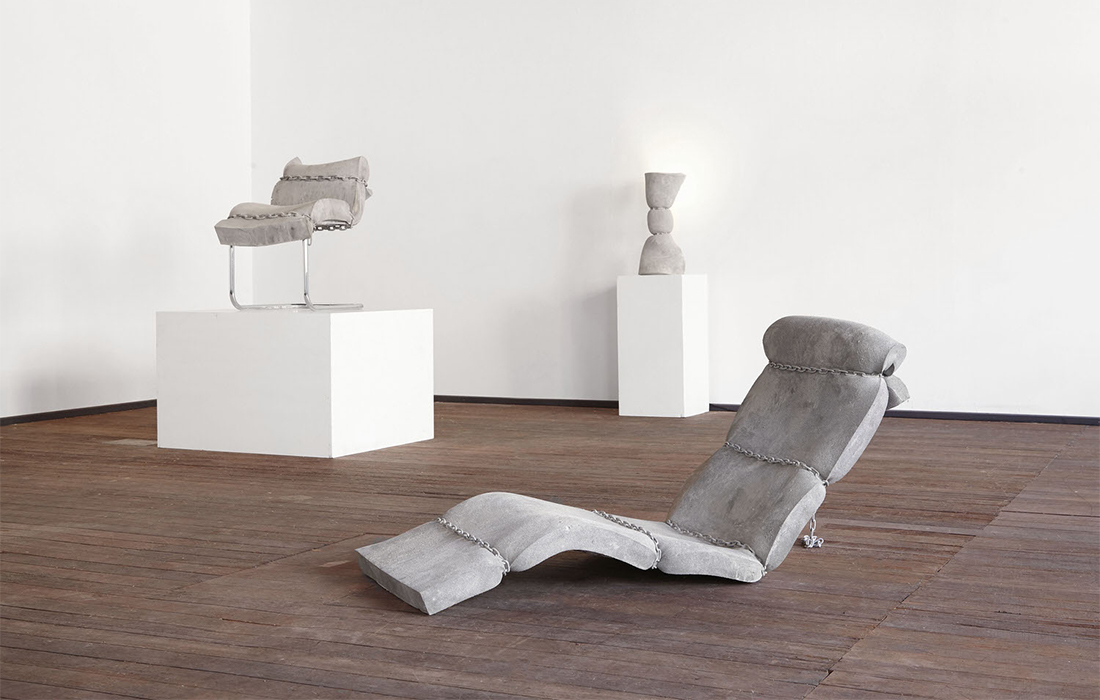 Charlie White is a multidisciplinary designer engaged in architecture, industrial and functional object design. Working with found materials, White tests the limits of aesthetic and utilitarian values, creating works that are sombre, gothic, seductive and expressive. Despite their unconventional appearance, White's designs are deeply functional, designed to serve a specific purpose while also conveying a strong sense of emotion.
Image: Charlie White, Opus Vincula, exhibition during Melbourne Design Week 2021. Photo: Charlie White.
Dalton Stewart is an artist and designer whose practice explores the reciprocity between architecture, design and the visual arts. Stewart's restrained approach to materials and processes is applied to create objects that foreground formal and abstract qualities, while drawing attention to the relationship between form and function. Through a tectonic and material-driven approach to design his one-of-a-kind material assemblages juxtapose reclaimed olivine basalt sourced in Melbourne (commonly known as bluestone) and machine-made sheet metal, to broach the complex histories and cultural significance of materials used in the built environment.
Image: Dalton Stewart, Basalt Tables, 2022.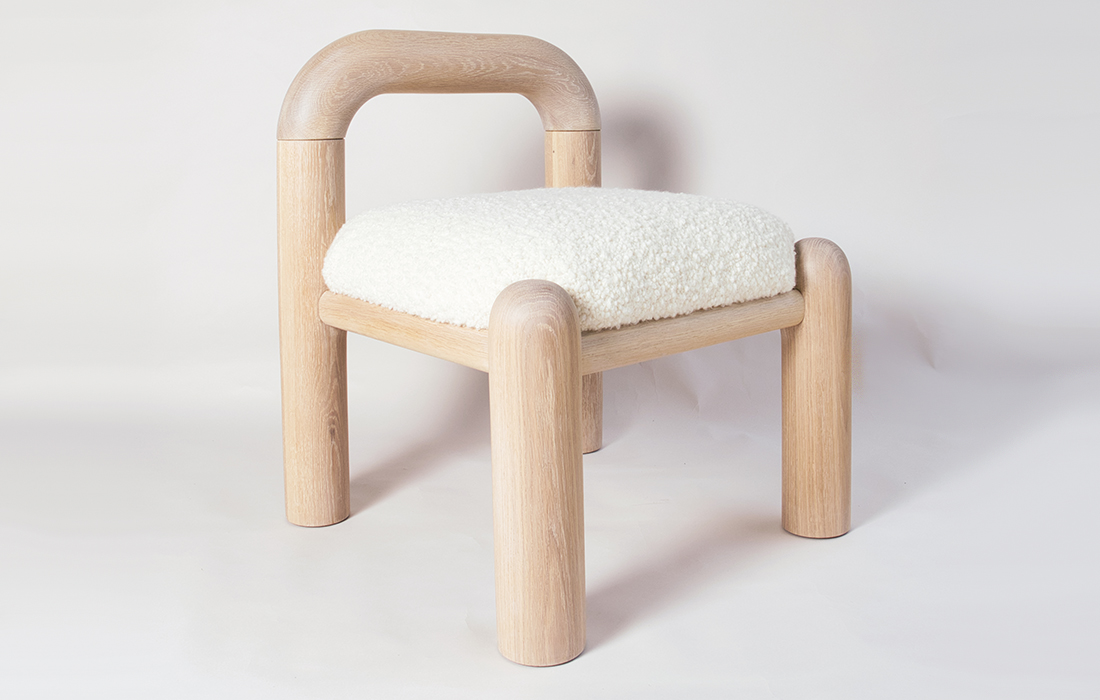 Prior to establishing his own studio in 2020, furniture designer and maker Isaac Chatterton apprenticed under artist and craftsperson Joshua Vogel in Upstate New York for two years, where he developed his passion for creating beautiful and functional timber furniture particularly in the form of chairs. Combining traditional woodworking techniques with modern technology, Chatterton's chairs are characterized by their quirky and expressive designs, attention to detail, and use of sustainably sourced timbers. Chatterton's Little Chair is made from solid American oak and takes inspiration from the construction of the Windsor chair, originating in eighteenth century England.
Image: Isaac Chatterton, Big Chair, 2022.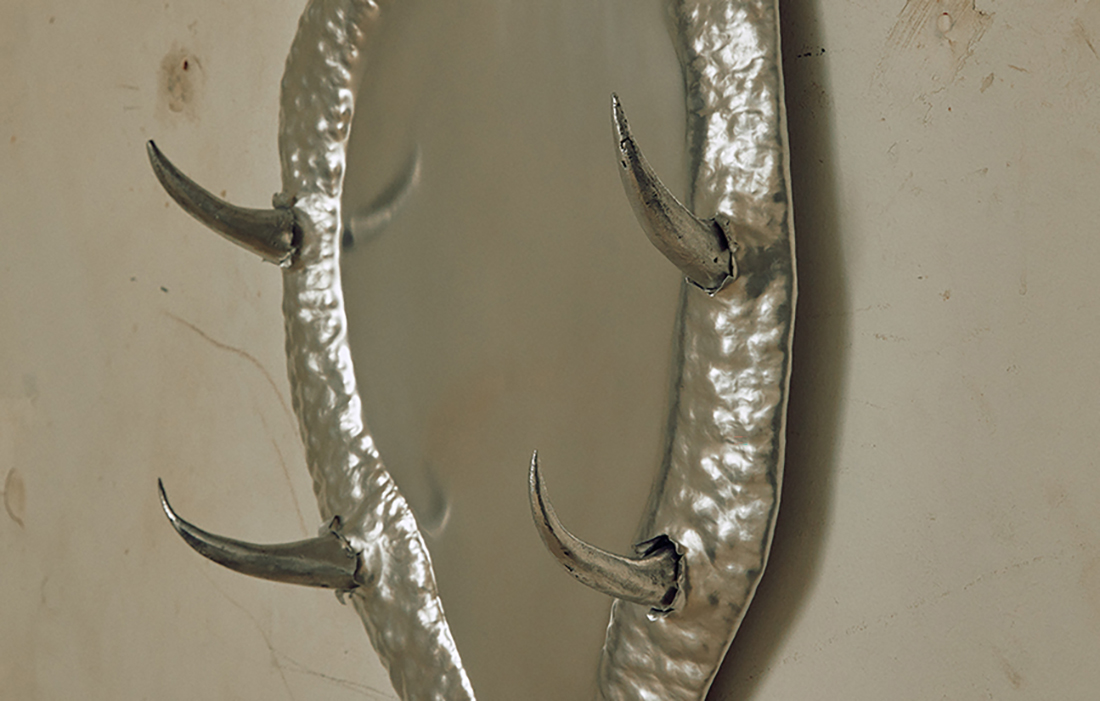 Julian Leigh May is an experimental designer whose practice embraces furniture, lighting and objects. They seek to redefine everyday items through new narratives, materials and forms. May's Introspection IV reconfigures our notions of the domestic mirror. Made from aluminium, it features a hand-hammered frame with sand-cast thorns and hand-polished reflective mirror. The work depicts May's own personal growth and evolution. For the designer, it is both a self-portrait and a representation of the queer community facing unclear visions of their future. The distorted mirror invites viewers to see the world through their perspective.
Image: Julian Leigh May, Introspection II, 2022.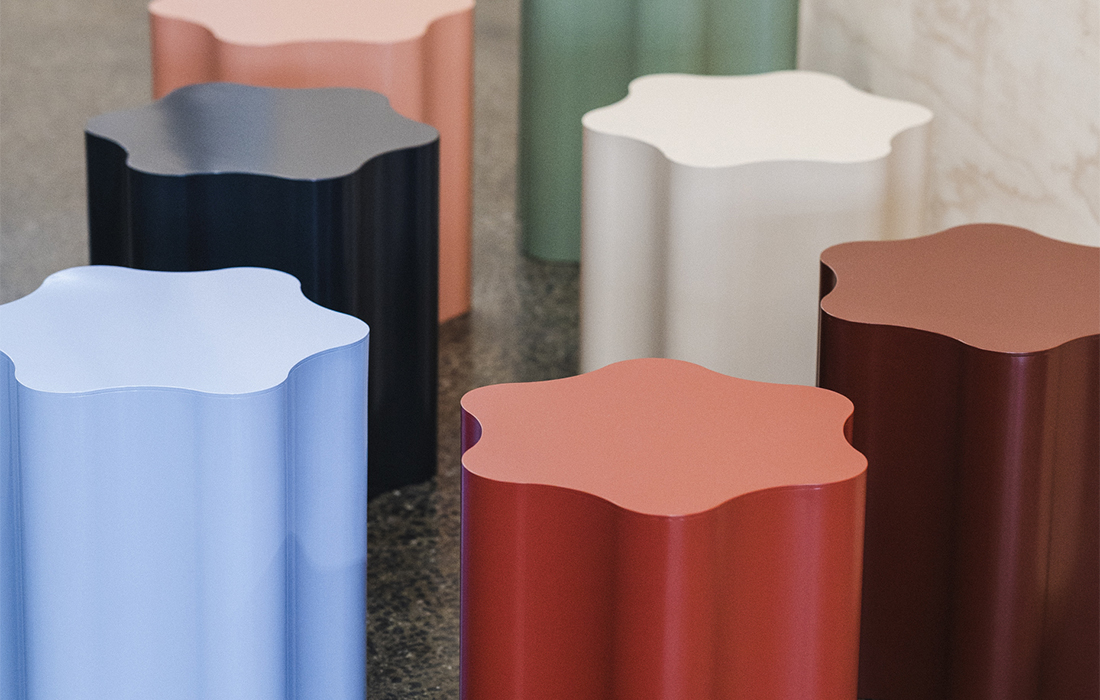 Lauren Lea Haynes is the founder of LLh Studio a vibrant furniture design and sculpture studio placing strong emphasis on one-of-a-kind pieces and small-batch production. Principally using stone and metal, Haynes's furniture, objects and sculptures are imbued with features inspired by narrative and the built environment.
Image: LLh Studio, Lauren Lea Haynes, Foli Side Table, 2022.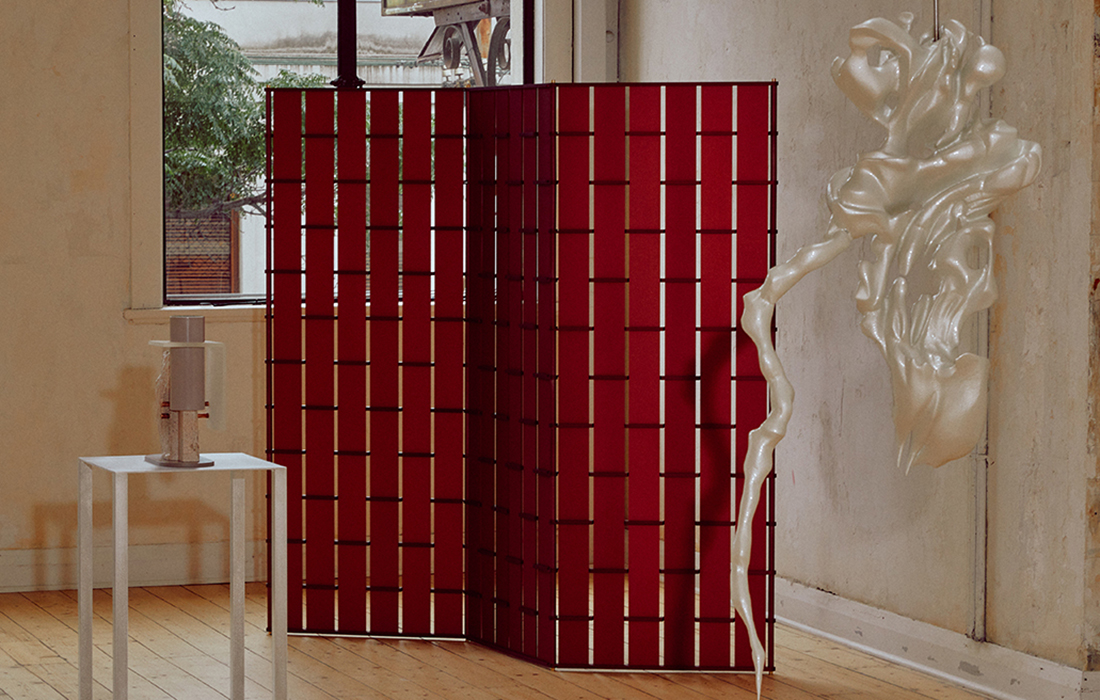 Nicole Lawrence is a designer and fabricator specialising in metal furniture and lighting. Balancing structural purpose with artistic freedom, Lawrence draws on her technical expertise and the help of a small studio team to produce each piece in her Preston studio. Lawrence's latest collection Warp-Weft, features a range of limited edition designs in anodised aluminium that pay homage to the timeless practice of weaving, skillfully transposing textile techniques into the medium of metal.
Image: Nicole Lawrence, Warp Weft, 2022.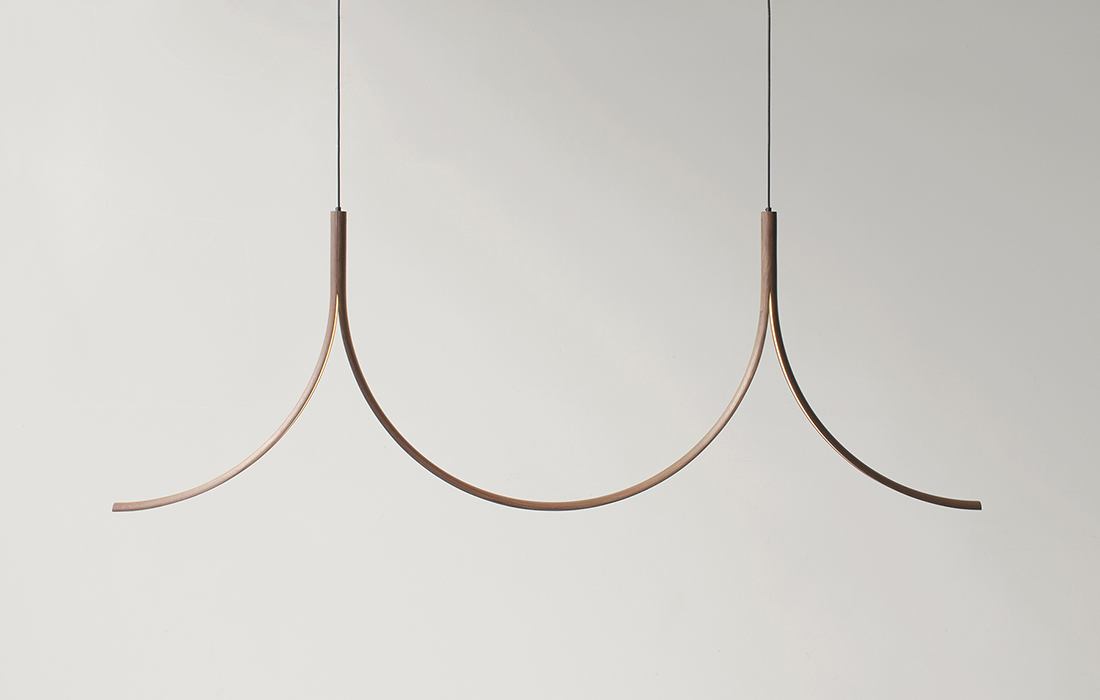 Founded by Samuel Burns in 2020, Sabu Studio specializes in creating bespoke furniture, lighting, and object designs. Burns personally designs and handcrafts each piece that bears the Sabu Studio name, emphasising the inherent qualities of the materials used and incorporating design concepts that are both clever and refined. Burns' Onu lighting collection takes inspiration from the mesmerizing effects of natural daylight as it filters through the branches of a tree, evoking a sense of wonder and enchantment.
Image: SABU STUDIO, Samuel Burns, Onu Duo Pendant, 2022.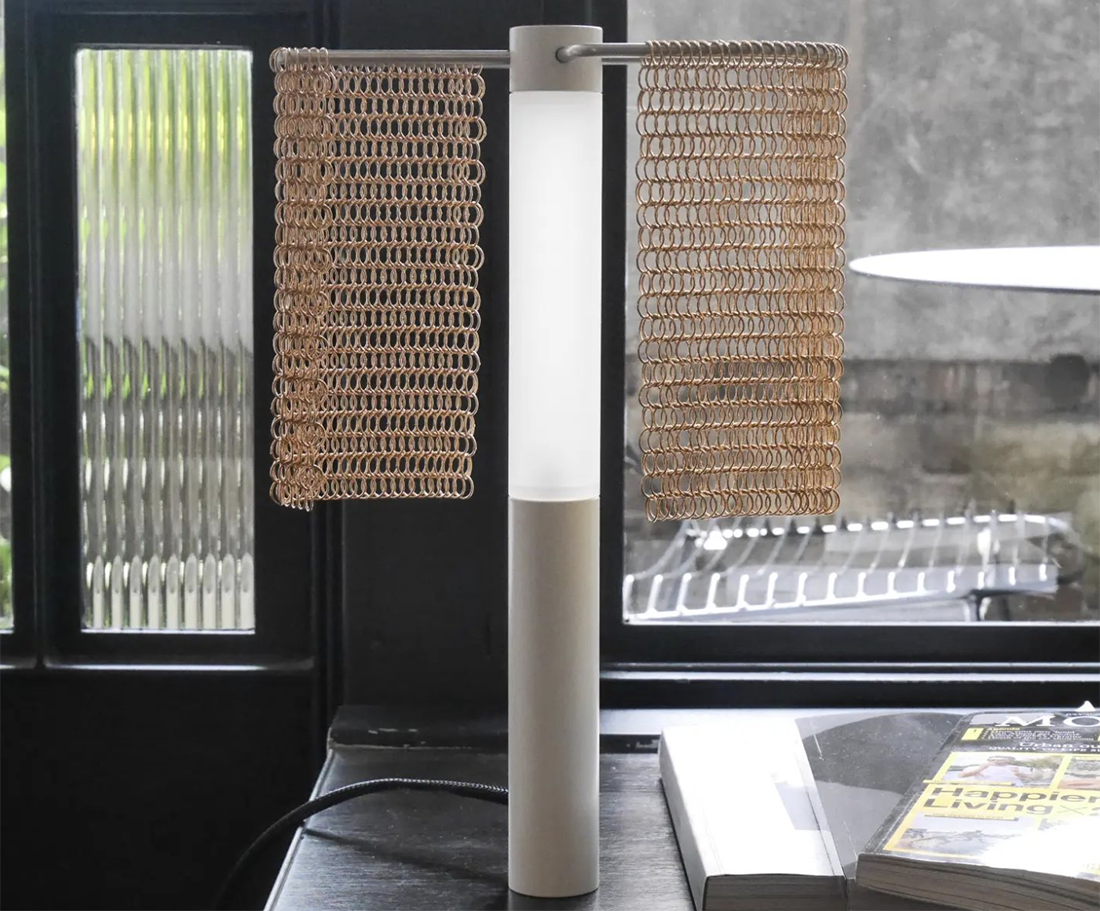 Sedni is a product design studio established by Daniel Stavridis in Melbourne in 2021, producing limited edition lighting, furniture and objects. The studio's name is derived from the Macedonian word meaning 'to sit' and serves as an embodiment of Stavridis' cultural heritage, passion for exploration, and love for furniture design. A graduate of Swinburne University of Technology, Stavridis was a finalist in Australia's Next Top Designer showcase for Design Show Australia, Sydney in 2022.
Image: Sedni, Daniel Stavridis, Atu Detail Chain, 2022.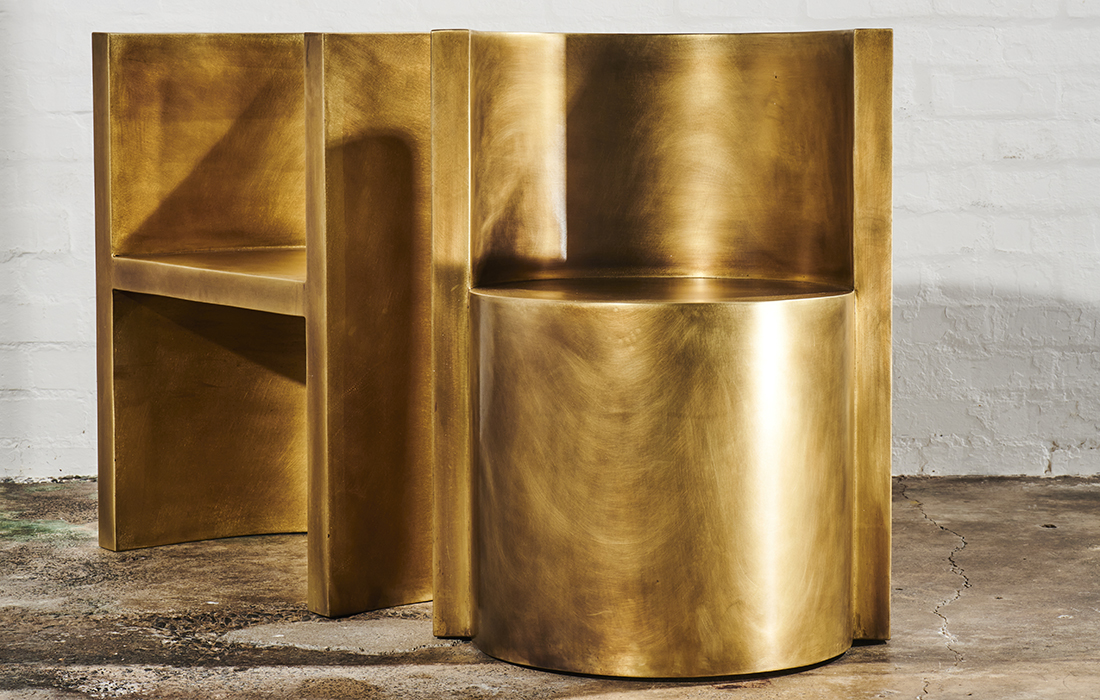 Established in 2018 by designer and maker Kirby Bourke, Two Lines Studio specializes in creating unique metal furniture and objects that showcase a Brutalist-inspired aesthetic through their simple yet elegant forms. Bourke's thirteen years of experience in metal fabrication and architectural design fuels the studio's passion for creating visually striking and functional pieces. Brass Bench by the studio is informed by the merging of simple geometries, fabricated in brass the patinated surface will develop a beautiful and unique finish over time.
Image: Two Lines Studio, Kirby Bourke, Curve Collection Chair 1 and Chair 2, 2022.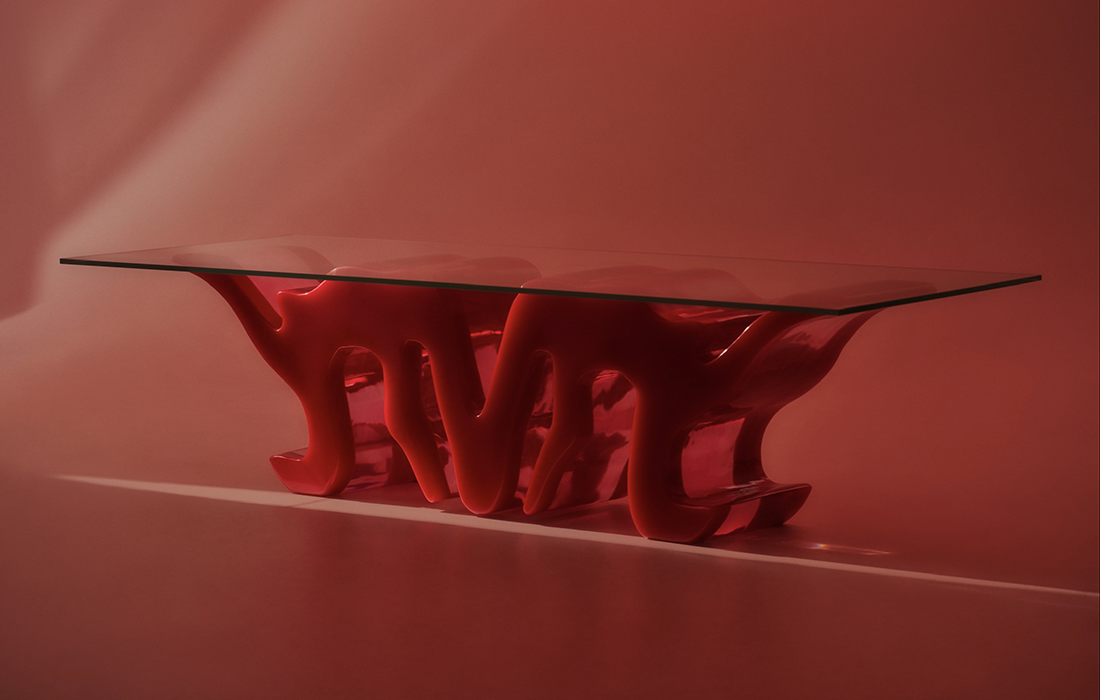 UnitePlayPerform (UPP) is a studio founded by contemporary artist, experience designer and educator Melissa Gilbert a.k.a. ØFFERINGS, that blends play design, making, performance, and community engagement to enhance wellbeing through creativity. Developing methodologies for experience design, UPP creates objects, immersive and interactive environments for sensory exploration. Sentient #1 Human, table, from the Sentient Play Kit Series 2023, is one of thirteen ambitious art and design objects conceived by ØFFERINGS intended to provoke and inspire contemplation on the theory of Jungian archetypes.
Image: UnitePlayPerform, Sentients #1 Human, 2023.
Passionate about the difference that good design can make in our daily lives, Stylecraft supports DISCOVERY.
See and buy works presented in DISCOVERY at Melbourne Design Fair, 18-23 May at the Melbourne Convention and Exhibition Centre. Buy Tickets.