Curated by the NGV, FOCUS brings attention to the work of five accomplished Australian women designers and makers. Foregrounding their skills and conceptual prowess, the works on display shine a light on the important contributions these practitioners are making to Australian design. The exhibition recognises the importance of inspiring future generations of women in design and promoting diversity within the industry.
Featured Designers
March 2, 2023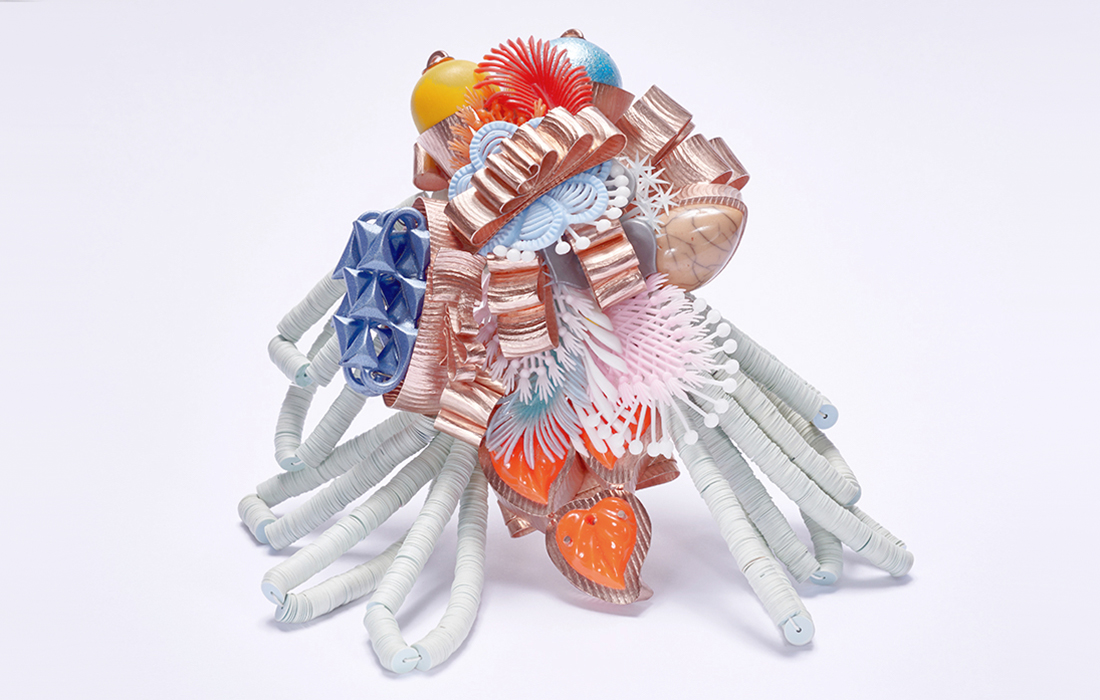 HELEN BRITTON
Australia born 1966, lives and works in Munich
Helen Britton is celebrated as one of the world's most noted contemporary jewellers. Britton's work is informed by her experience of the vast and layered history reflected in the built environment, as she meticulously constructs pieces using precious metals, stones, glass and collected components. Britton's work is a meditation on her own history as she designs and makes beautiful and meaningful jewellery pieces that act as powerful triggers to memory and association.
Britton established her studio in Munich in 2002 following post-graduate study at the Academy of Fine Art, Munich, and Curtin University, Western Australia. Her work is held in the permanent collections of the National Gallery of Victoria, Melbourne, National Gallery of Australia, Canberra, Art Gallery of Western Australia, Perth, Metropolitan Museum of Art, New York, Boston Museum of Fine Art, Massachusetts, the Neue Sammlung, Munich and the Stedelijk Museum, Amsterdam. She was awarded the Förder Preis of the City of Munich in 2013 and is an Adjunct Professor at RMIT University, Melbourne.
Image: Big Bouquet, 2013, silver, rose gold plated, vintage plastic components. Courtesy of the designer and Gallery Funaki.
EMMA JACKSON
Australia born 1970, lives and works in Melbourne
Emma Jackson is an architect with an abiding interest in earth science. She creates large-scale textiles to communicate the complex geometries of deep time, using vivid colours and striking elements to reveal geological behaviour. Jackson's Time Travellers series of hand knotted rugs effectively express the behaviour of 4 billion years of continental migration in Oceania. These rugs challenge the traditional perception of Australia as a single, static landmass. Each rug represents a unique microcontinent that has travelled through time to reach its current location and will continue to move in the future.
Jackson studied architecture at the University of Western Australia working as field assistant to Australian naturalist Harry Butler in the 1990's in Australia's Northwest. Completing further studies in animation and interactive media and PhD in architecture at RMIT University, Jackson established her own practice in 2021 following time with noted Australian architectural firms Lyons and John Wardle Architects. Her work was presented at the Venice Biennale of Architecture in 2018 and 2021. In 2021 Jackson was awarded the Australian Tapestry Design Prize for Architects.
Image: Tiger Fish, 2023, hand knotted wool and silk.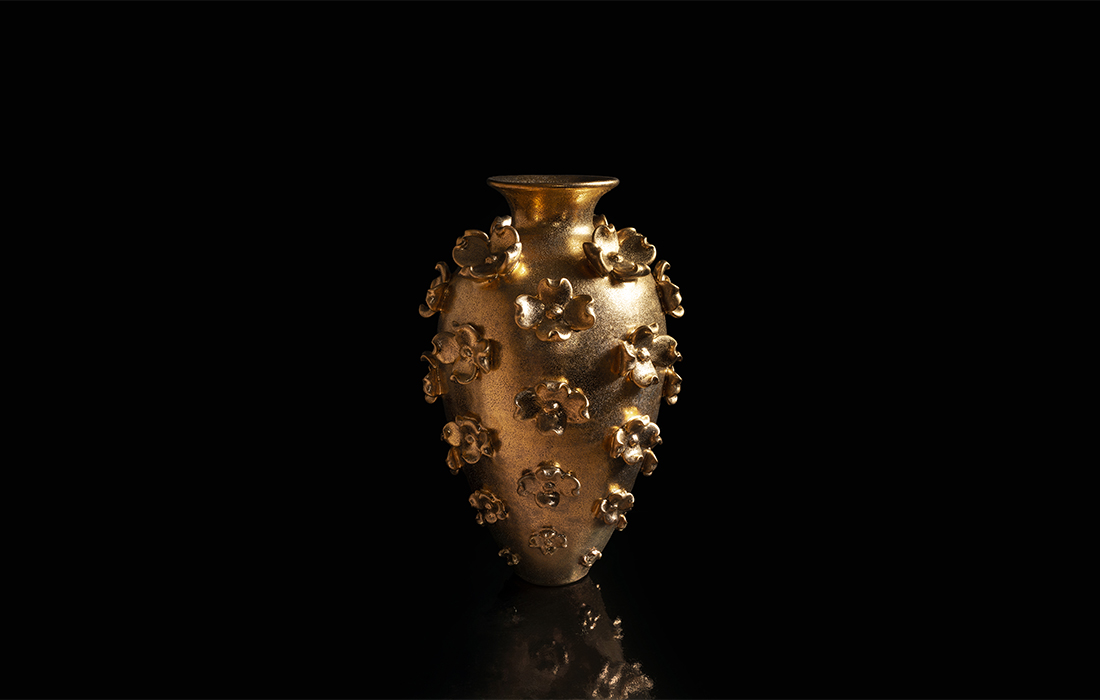 NICOLETTE JOHNSON
England born 1990, arrived Australia 2005, lives and works in Brisbane
Nicolette Johnson is a ceramicist employing wheel-throwing, coiling, and sculpting techniques to produce vessels imbued with esoteric and surrealist motifs. Emblematic of her conceptual focus and skill, Johnson's work is informed by a deep understanding of the myriad traditions, techniques, and symbols of vessel-making.
With a background in photographic art and photojournalism, Johnson began working in ceramics in 2015 and is continuing her practice-led exploration into functional and sculptural ceramic vessels, hand-making and firing her works from her home studio. Johnson's work is held in the permanent collections of the National Gallery of Victoria, Melbourne, Museum of Applied Arts and Sciences, Sydney, Museum of Brisbane, and Griffith University Art Museum.
Image: Nicolette Johnson, Gilded Flower Pot, 2022.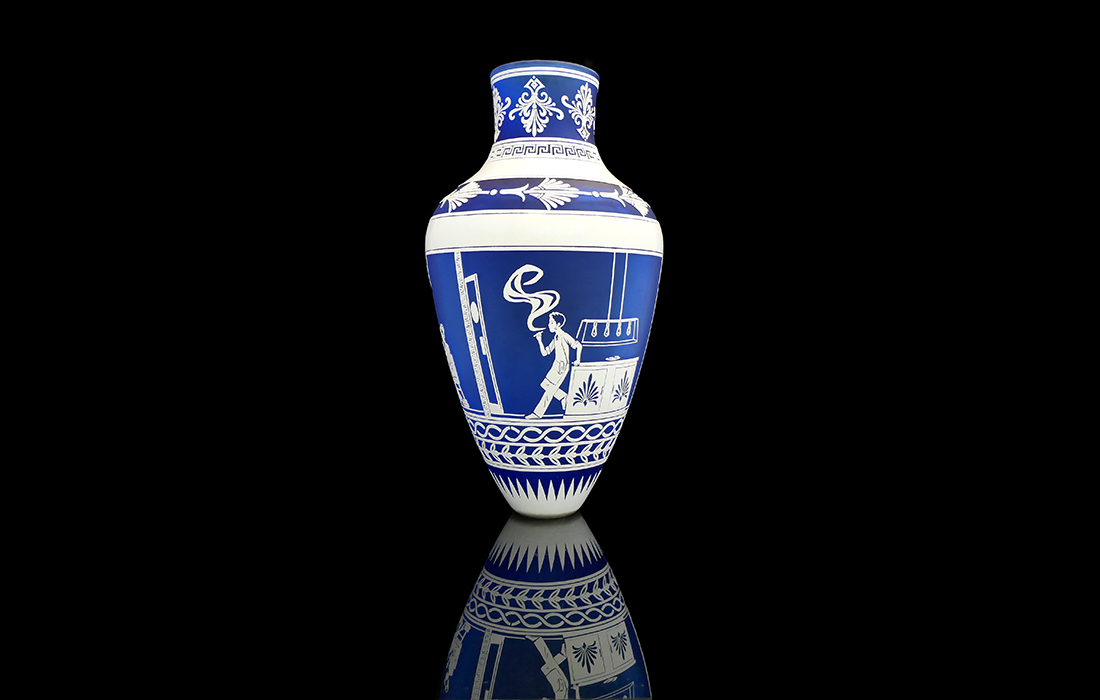 JESSICA MURTAGH
Australia born 1986, lives and works in Adelaide
Jessica Murtagh is an early career artist and designer who specialises in creating blown glass vessels. She draws inspiration from ancient Athenian ceramic amphoras, which often depicted scenes of daily life. Murtagh's vessels consist of two colours, often a blue interior and a white powdered glass exterior. Adapting an ancient glass technique called cameo glass, Murtagh hand carves and engraves complex illustrations to the exterior of the vessels depicting in 360 degrees scenes relating to the social and economic fall-out of COVID-19 in Australia, online dating, domestic and everyday contemporary life.
With a master's in design from the University of South Australia, Murtagh was trained by glass artists Drew Spangenberg, Emma Young and Marcel Hoogstad-Hay. Awarded a Thomas Foundation Residency at the Canberra Glassworks in 2020, Murtagh has been a finalist in the Tom Malone prize Art Gallery of Western Australia and the Milano Vetro 35 Prize curated by the Museum of Decorative Arts, Sforza Castle, Milan. Her work has also appeared in the 2020 and 2022 editions of New Glass Review, an annual international survey of contemporary glass published by the Corning Museum of Glass, New York. Murtagh's work is held in the permanent collections of the National Gallery of Victoria, Melbourne, the Powerhouse Museum, Sydney, and the Parliament House Collection in Canberra.
Image: Modern Relic: Getting to know you (swipe left), 2023, glass, 43.0 x 25.0 x 25.0 cm, courtesy of the designer and JamFactory.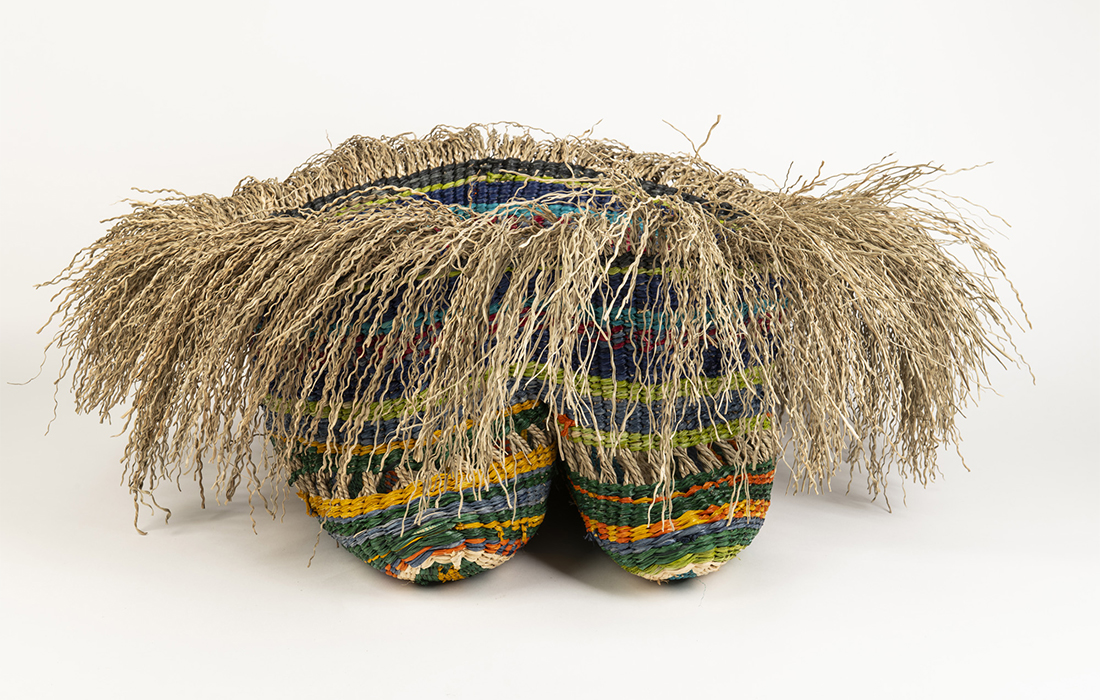 PAULA SAVAGE
Mualgal born 1982, lives and works in Kubin, Moa Island
Paula Savage is a Mualgal woman from the Serganilgal clan group from the village of Dabu on Moa Island, and the Kaurareg Nation of Muralag and Kiriri. She lives in the Kubin community on Moa Island in the near western cluster of islands in Zenadth Kes (Torres Strait).
Savage has been a member of Ngalmun Lagau Minaral Art Centre (Moa Arts) since 2017. She is a senior artist renowned for her ability to bring to life the shells and fish bones, sea life, hunting and fishing implements, luggers, and pearl shells of her personal history.
'I am interested in everything', Savage says. 'I enjoy weaving, lino printing, tie-dying, drawing, carving, and jewellery making. However, all of my works are based on my heritage, the cultural laws, and customs that we still practice today.
Savage's work has appeared in national exhibitions including Tarnanthi, Art Gallery of South Australia, 2019, Notation, The Cross Art Projects, Sydney, 2019, and Lei It On: Contemporary lei and body adornment from the Torres Strait Islands, Cairns Art Gallery, 2017. Savage was the recipient of the Cairns Indigenous Art Fair, Holding Redlich Innovation Award in 2020 and awarded the Indigenous Art Centre Alliance, Lucille Osborne Emerging Artist Fellowship in 2018. Her work is held in the permanent collection of the National Gallery of Victoria, Melbourne, and private collections.
Image: Paula Savage, Gai Gai Basket_Kingfish Basket, 2022. Photo: Michel Marzik.
See and buy works presented in FOCUS at Melbourne Design Fair, 18-21 May at the Melbourne Convention and Exhibition Centre. Buy Tickets.